Join an official BOS Reforestation Volunteer Program
Our journey starts at BOS Foundation's rescue and rehabilitation center in East Kalimantan. There, you will engage in tree planting activities but also participate in our orangutan and sun bear enrichment program. You will visit both BOS rescue centers to become an active campaigner back home!
Highlight and true pride of our program is a memorable trip to Nyaru Menteng , the second and much larger BOS rescue and rehabilitation center in Central Kalimantan. There, you will be able to see orangutans on pre-release islands and , if health protocols allow, to observe forest school pupils on the playground.
Before, during and after your travel you will actively participate in the One-Tree-One-Life Campaign under the guidance of BOS Switzerland and together with your fellow volunteers.
What to know:
Available in German and English
In Samboja Lestari and Nyaru Menteng, Borneo
Availability: 5-18th February 2024
14 nights / 15 days
All organic meals included
Up to 15 people

Price: Basic price plus active campaigning to cover costs of your donation
Experience the largest primate rescue and rehabilitation program of the world! Improve the wellbeing of rescued orangutans and sun bears at Samboja Lestari and help us plant the rainforest of tomorrow.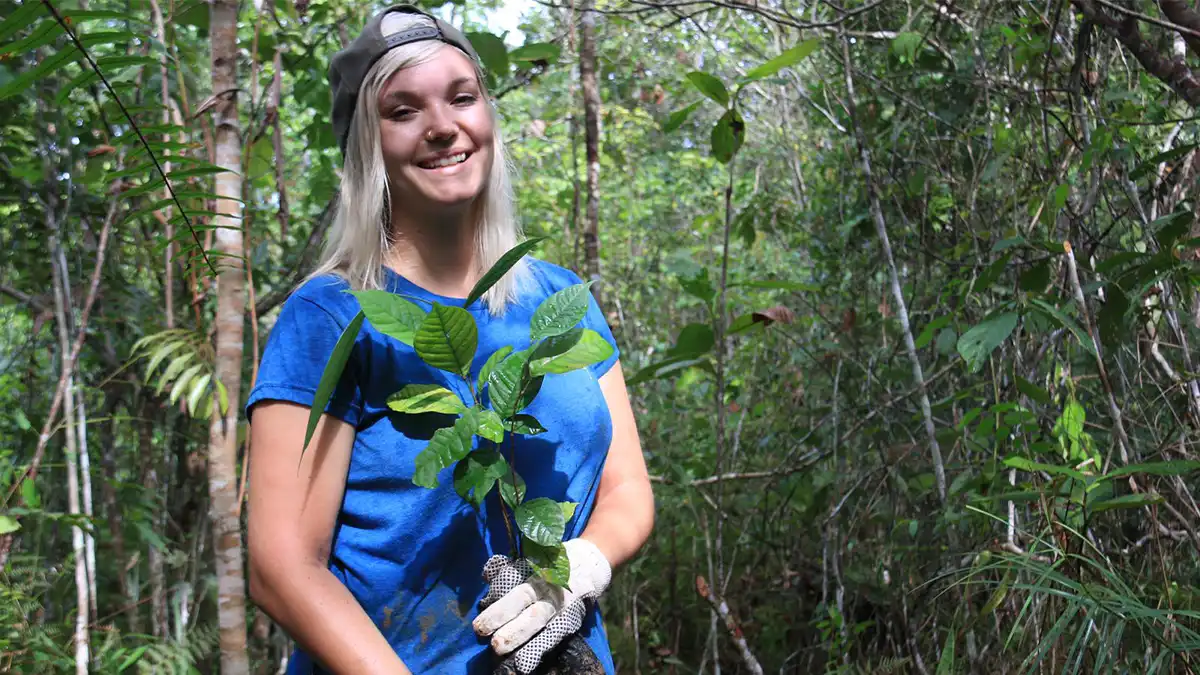 Reforestation
The beautiful rainforest of Samboja Lestari is the result of a very impressive reforestation project. Thirty years ago, the entire area of Samboja Lestari had been covered by nothing more than easily inflammable grass. More than 1 million seedlings later, the Samboja Lestari rehabilitation activities depend on this forest which became home to an array of enchanting species like cobras, binturongs and macaques. Experience the beauty of this area while planting further trees, cutting ginger leaves for the orangutans and relaxing on the terrace of the beautiful Samboja Lodge!
Working with Orangutans
As a One-Tree-One-Life volunteer you will become an integral part of the Samboja Lestari Orangutan Sanctuary. Part of the volunteering work is maintaining the infrastructure on sanctuary islands (e.g. repairing feeding platforms or cleaning the canals) and preparing enrichment items (like seeds hidden in bamboo sticks or ice cubes) for both orangutans and sun bears. This increases their agility and teaches them how to forage for food or to build, modify and use tools which ultimately increases their chances to survive in the wild. At times, you will be allowed to accompany our caretakers when cleaning cages or feeding the orangutans on the sanctuary islands.
Your activities in a nutshell
Orangutan Sanctuary
A highlight and extreme privilege of our program is touring Samboja Lestari Orangutan Sanctuary. Samboja Lestari (translated as " Samboja Forever") is currently a home to 127  orangutans that have been released into 6 islands around the lodge. Our detailed tour, will get you one-of-a-lifetime opportunity to deepen your orangutan knowledge but also observe the behaviour of rehabilitated individuals living within the complex.

Visiting Sun Bears
The BOS Foundation also looks after 69 sun bears, the smallest and definitely cutest bears in the world. You will get to see staff feeding the bears and learn more about our efforts to build large forested outdoor enclosures for them. At its core, we care for them in a similar way to how we care for orangutans, because for both it is not only about tending to their physical needs, but their social and psychological ones as well!
Canopy Bridge
See the rainforest from a different perspective by walking along the Canopy Bridge, 30 meters above the forest floor. A must-do activity!
Sungai Hitam Boat Cruise
Following a 30 minute drive from Samboja Lestari, you will take a leisurely boat ride along the Sungai Hitam river to see highly endangered proboscis monkeys and a river side village of houses built on stilts.
Sanctuary Islands River Cruise
Embark on a river cruise around the spectacular Sanctuary Islands! Orangutans spend time on these islands prior to their release and are given the space to put their forest skills (acquired through the rehabilitation programme) to the test. This will be a great opportunity for you to learn a little more about the project and the many successful releases BOSF have undertaken, as well as learning about some of the characters on the islands.
Tour of NM Rehabilitation Centre
See what your support has enabled us to achieve over the years by taking a guided tour of our Nyaru Menteng rehabilitation centre. Meet some of our local staff - the heroes who keep these centres running every day and who look after hundreds of orangutans in our care.
Lodge
Samboja Lestari is an oasis just outside of the hustle and bustle of busy Balikpapan, set the heart of 1,800ha of secondary rainforest. It remains one of the best and most accessible places in the world to see orangutans whilst respecting the fact that they are wild animals.
Rooms
Estimated travel cost is based on the twin-share standard first floor rooms, with cold water and a lovely garden view. In the warm climate, the cold water is refreshing and cleansing to shower in after a hot, sweaty day. Single rooms and rooms with hot showers are available at an extra cost.
Wildlife that you may see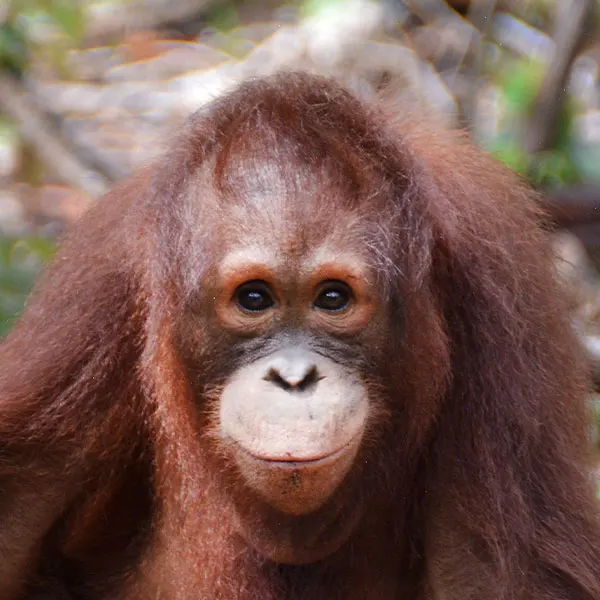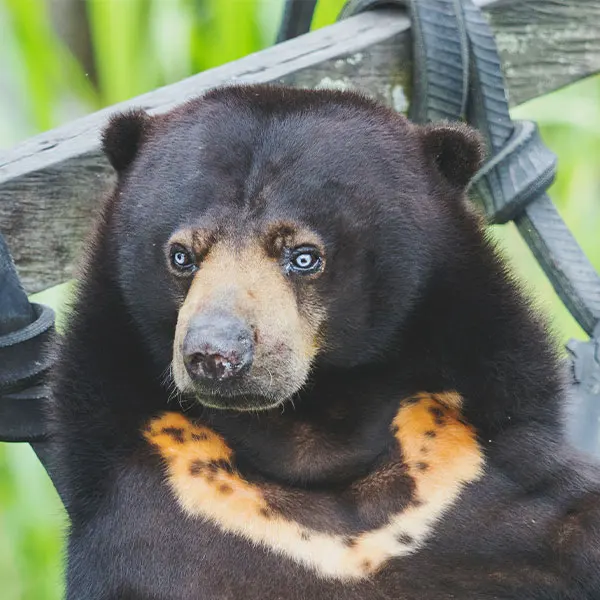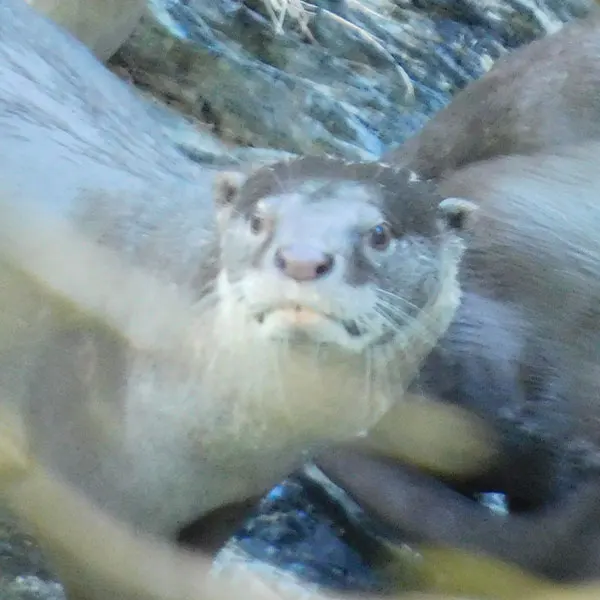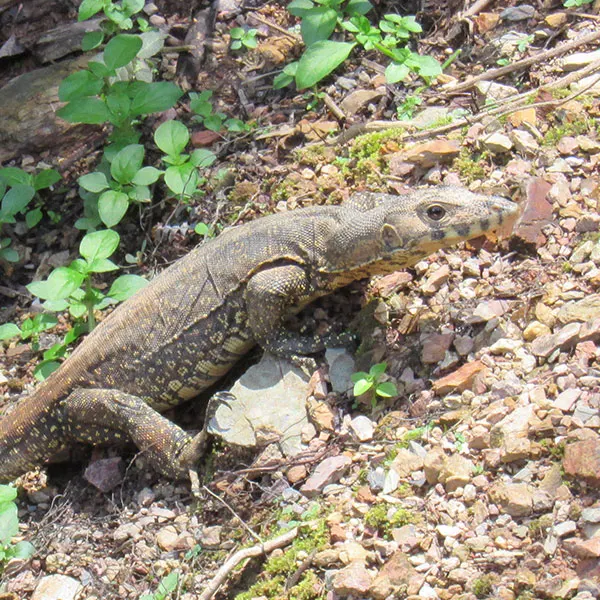 I loved walking through the forest, thevariety of plants, flowers, trees and animals. There was so much to discover. It was so peaceful and quiet – and still you could always hear different animal noises.
Thanks to the organizers of the program! What you and BOS achieve in general is unimaginable and to see it upclose is wonderful. I would also like to commend the staff at Samboja Lodge. Everyone is very friendly, motivated and seems very happy.
If you prefer to arrive earlier or leave later, we are happy to arrange it for you!
Optional independent trip extensions are available. Please enquire.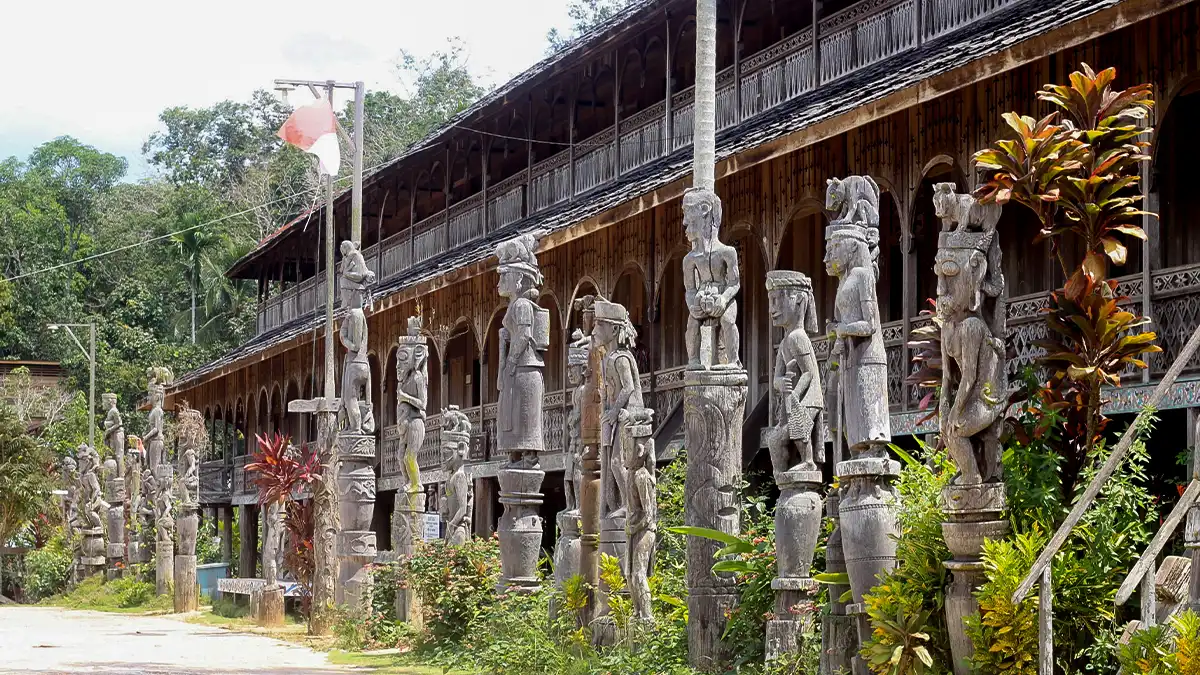 Mahakam River Adventure Tour
5 days / 4 nights
The Kalimantan Mahakam River is one of the greatest adventure tours of Indonesia, where the poison darts of the blow pipes still move their way through the rainforest!
The houseboat provides lodging and full-board meals for several days during your trip, giving you a unique experience of living on a river. Several highlights of the tour include traditional villages, dance performance, wildlife, jungle trekking, museum and a Royal Palace.
Trekking in Kutai National Park
3 days / 2 nights
Kutai National Park in East Kalimantan has been established to protect a wild population of around 2000 wild orangutans and other species, as well as traditional Bugis Dayak villages.
We will go deep into the Bornean rainforest in search of endangered fauna and flora, staying overnight in the Camp Kakap. Perhaps one of the most exciting experiences is a night rainforest trek when the cacophony of sound is quite overwhelming!
Derawan Archipelago
Welcome to paradise! The classic tropical islands of the Derawan Archipelago are where you go to trade jungle trekking and orangutans for white unspoiled beaches, palm trees and warm blue sea. Snorkel or take an optional scuba excursion to see schools of barracuda, whale sharks, green sea turtles, manta rays and more near Derawan's coast.
Komodo and Rinca
Visit the Komodo dragon feeding grounds, swim in a beautiful coral garden, or simply relax by the ocean, and prepare to have your breath taken away by such unforgettable locations as Batu Cermin cave, the Rinca & Komodo Islands, and the famous Pink beach! During your time you will have the chance of witnissing animals include the water buffalo, monkeys and, of course, the famous Komodo dragon.
Get Booking
only £780 (+active campaigning)
Covid-19 & health requirements
If the BOS program falls at a time when Indonesia has decided to close its borders and/or has isolation measures in place, then the program will not go ahead.
Visitors need to test negative for TB, HIV and Hepatitis B and C before arrival. More information on the required health tests (usually simple blood tests) are provided after registration. In addition, information e.g. on quarantine needs and behavioral protocols need to be read, understood and signed. This includes BOS Foundation's Visitor Compliance Statement, an Orangutan Proximity Agreement, the Ethical Guidelines and Code of Conduct, Samboja Lodge Visitor Guidelines etc..These documents are available online and can be found on BOS Foundation's Website.
Allergies & dietary requirements
The price for your accommodations also includes all 3 meals per day (not including alcohol). Please note that while we can cater for different diets, we would like to be informed about your dietary requirements/allergies in advance.
Weather
Considering that the program takes place within a rainforest, the weather can naturally be unpredictable. Please note that we may be prevented from doing some of the activities if this is the case. Replacement activities will be offered during these times.
What's included
Full board accommodation, transportation from/to the airport, activities on the ground.
What's excluded
Costs of the obligatory health tests, other travel costs (especially flights), extra tours, insurances, vaccination, and alcoholic beverages.
Recommended flights
Any flights arriving in Borneo on the first day of the program and departing after program finishes. Let us know if you are planning to arrive/depart on different days.
Please remember that airfare is not included. The airport shuttle is only included on the day the program begins and ends. An extra fee will be added if you arrive or depart on alternative days.
Cancellation policy
BOS Switzerland reserves the right to ask for a deposit as soon as accommodation needs to be reserved. Please note that unless the program is cancelled, your deposit is non-refundable as costs need to be paid for in advance.
Contact us
If you have any queries or like to chat about the best options for you, please contact us through info@bos-schweiz.ch